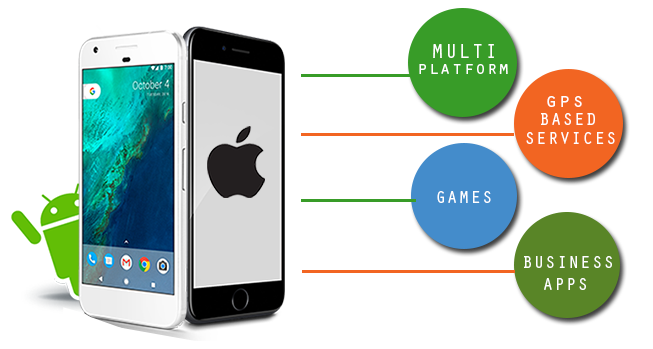 Hybrid App Development Services
In order to earn maximum profit and to gain a wide range of customers, we at Papasiddhi for your enterprises leverage the Cross Platform apps / Hybrid app development. According to your enterprise needs, industry standard practices adopted by our team of expert developers in delivering the Hybrid apps that are customized. Our developers are professionals in programming languages, web technologies, and design concepts. With more access to multiple devices, to reach a wide range of customers also enhance performance, we help your business in less time to market reach with all at affordable prices.
These Hybrid applications are built using HTML, CSS and Javascript. In app development, Papasiddhi is a professional by providing cost-effective solutions for hybrid app development across the countries.
To write HTML5 compliant code and create beautiful layouts, we have the competence at optimizing CSS and Javascript that works on any platform without sacrificing the cool native capabilities. In HTML5 & JQUERY APP, more than 5,000 APIs of Javascript and HTML5 helps us to create native apps in user's respective applications stores for end users.
What we do in Hybrid apps? 
With potential HTML5 development and advanced mobile frameworks, our expertise in hybrid mobile app developers combine their experience to build user-friendly apps. These apps behave and look similar like native platforms on all platforms such as, Windows, Xamrin, Android, iOS, and others.
Design – An immersive and ergonomic interface design is ensured by our hybrid mobile app design experts that provides a great user experience.
Development – Feature-rich and cross-browser compatibility is delivered by our hybrid app development team that saves time and cost.
Integration – Smooth and advanced functionality is ensured by our expertise in seamless integration techniques for hybrid mobile app development.
Support and Quick maintenance – The responsive app maintenance and 24X7 support is provided by us to help businesses manage and deploy applications.
We ensure and adapt complete app that suitable for your business requisite though our innovations.
develop your hybrid app to reach a wide range of consumers which includes,

hybrid mobile app development
To build user-friendly app, our professional developers combine their experience with potential HTML5 development and advance mobile framework.
mobile app design
For providing a great user experience, our hybrid mobile app designs experts ensures an interactive and ergonomic interface design.

cross-platform development
Time and cost saves by feature-rich and cross-browser compatibility that delivered by us.

html5 app development & designs services
With the help of powerful HTML5 and jQuery frameworks, high-end enterprise apps develops and designed by our team.

Hybrid application integration
Avail the advanced functionality in the Hybrid app by our coding expertise in seamless integration techniques and strategy.

Quick maintenance support
In order to ease the way for the businesses to administer and deploy the app, our company offers responsive maintenance support 24/7