August 25, 2022
Posted by:

puser

Category:

Project Management, Robotics, Web Development, Website Designing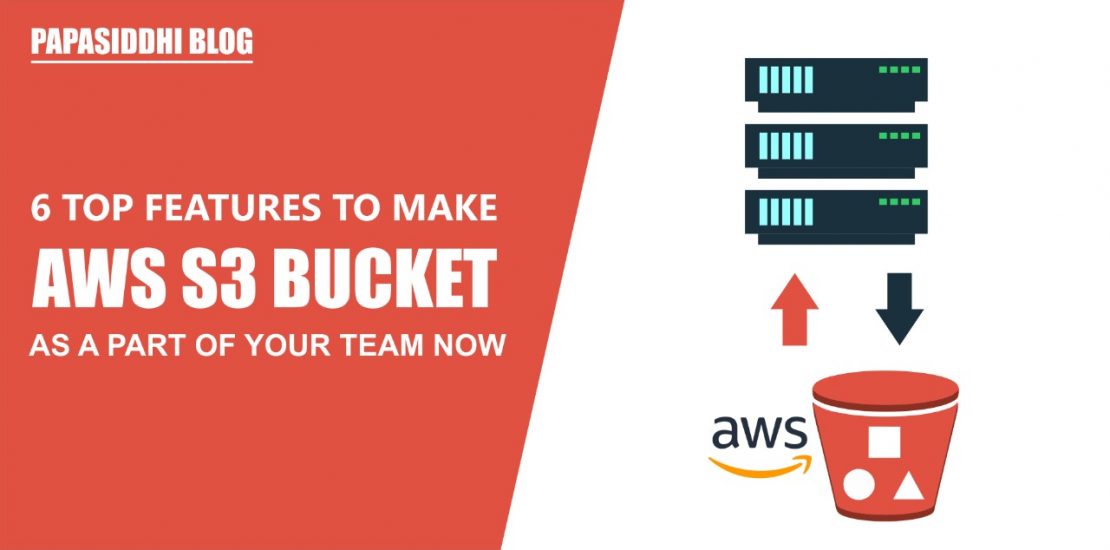 6 TOP FEATURES TO MAKE AWS S3 BUCKET AS A PART OF YOUR TEAM NOW
Before we discuss S3 features and benefits we have to understand what it is? Many of you reading this blog I believe know what it is but it is always good to spread knowledge, S3 stands for its name which includes three S representing the definition of Simple Storage Service, it is a kind of AWS's cloud storage service that provides the ability to retrieve, access, store and back it up whatever amount of data, particularly at any time and place.
Now as we know that S3 is an object-based storage service, thus it will store data in object form. Each object has three basic components; its unique identifier, its content, and most important its metadata which includes the object's URL, size, and name. So, now that we have described what S3 Bucket is, let's focus on 6 key features brought to you by a great, determined and hardworking team of coders here at Papasiddhi.
Key Features of S3 Bucket 
Better Support and Reliability
S3 is made in such a way that it can easily handle a high volume of requests with no disturbance or issues and also it guarantees and generates uptime during high traffic spikes. When you buy yourself the service agreement it makes you a commitment related to uptime which depends upon what pricing tier you have chosen. You have also insured against all types of AWS site-level failures if any, and Amazon takes guarantees of your durability and accountability. S3 also gives you an upper hand against mistakes which includes a version control system to shield against unwanted deletions or accidents. You can always turn on logging, which saves detailed data and information about your all interactions with stored data for repair, check, and troubleshooting.
Excellent Manageability
S3's simple and easy-to-use structural web service interface and architecture make initial configuration and deployment effortless. The Management system of S3-hosted stores is up to the point and yet flexible making it a better form of service. For instance, graphically oriented customers/users can perform their tasks directly with the objects.
The platform also enables a REST interface system that lets developers store and manages data at the account level, within the same buckets, or other individually different objects. In addition, S3 supports all kinds of batch operations across all levels.
Assured Compliance and Security-
You never have to worry about any kind of breaching or malfunctioning as S3 keeps data highly secure with the help of several upgraded tools. You have a built-in support system for user permissions that regulates who can download or upload data and access your data preventing any kind of unauthorized access and making your data safe and profound.
Website Hosting Anywhere, Anytime
S3 lets you map and host a website to their domain. Making it very cost-effective, because you are paying only for what you are using. And also there is no such requirement for highly configured servers to run your website independently.
Creating temporary URLs
S3 provides you the ability to share a URL, which expires automatically after a limited period. Now if you want to share some kind of confidential, important, or secure data for a minimum time surely do that because any other user cannot use your data after the URL expires. Well, now we don't see any reason why you shouldn't make the S3 bucket the part of your system, to ensure growth, security, and development. If you are still confused then please Contact us, we will be glad to answer your all kinds of queries related to the AWS S3 System.