September 14, 2018
Posted by:

papasiddhi

Category:

Big Data, CMS, E-commerce Development, Software Development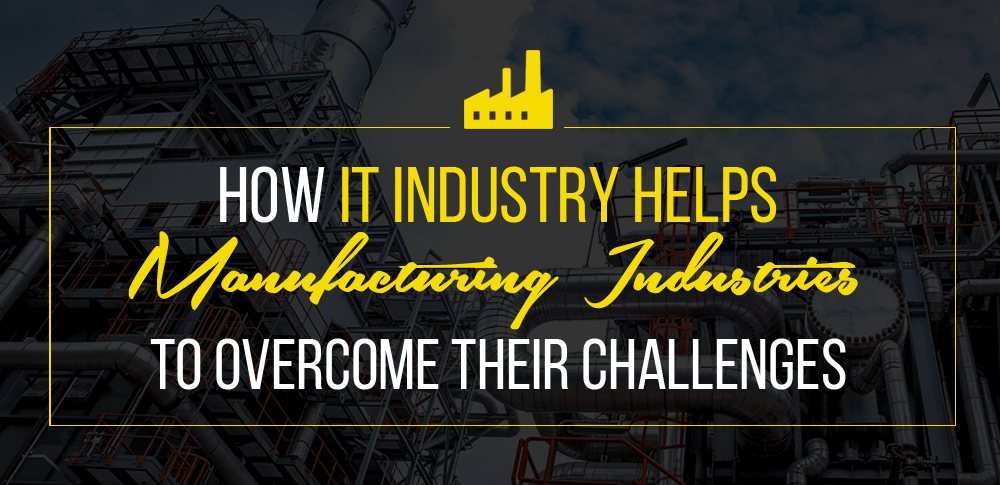 How IT industry helps Manufacturing Industries?
Lets discover how IT industry helps Manufacturing Industries to overcome their challenges
Nowadays market is going to be competitive and over the past few decades US manufacturing has seen tough times. This industry based companies are being challenged by growth. Thanks to modern technology that provides choices to consumers because of this, they can compare the product prizes by pressing a click of button on their smart-phones both domestically and globally.
To being successful, companies does not need to decrease their price and remain competitive on it in marketplace but all they need to do is to bring value to their customers rather than product offerings.
Companies are targeting customers to fulfill their demands so they are constantly concentrating on providing best products and services but it brings some key challenges some of them are domestic, technological and international issues that affects their businesses. Some of issues and solutions are given as following:
Custom Software Applications for your Competitions and Consolidation
In the process of negotiating a deal, you never know who may be asked or approach such kind of acquisitions and mergers that will continue to happen. You cannot control over these things but you can remain those for next situations to play flexibly.
To being a competitive, you need to know your market and if changes are needed, then be able to adapt it to your market like Custom software applications. It is dramatically improved visibility that is real time visibility because it is important to create timely informed decisions. Employees can make more accurate, faster decisions and better informed which creates more accurate work without wasting resources on data extraction.
Technological Systems Manage your Lean Manufacturing
It is most important to do and practice more to being a competitive and keeping your products and service costs down. While maintaining profitability, your operational costs can drive down though process improvement initiatives and technology. This technological systems can manage your logistics, data, and fulfillment of orders and the procurement of products at desired levels.
Data Analytics Tool for Succession Planning
You have all records of your transaction and related activities but have you ever tried to take steps to increase your business value and do you know what your company is owing?, Have you think before to sell your company with considering your family's long-short term needs?.
To discuss about succession plans is not too early. The plans can be revised and evaluated as per the requirements and time. This plans is the key that works pro-actively instead of response to a condition which force the conversation. Discussion helps to know your next plan and it will provide security for any unanticipated circumstances also emerge leaders for more time.
To make a strategy plan, use data analytics tool that provide the framework for using techniques of data mining that helps to discover patterns, analyze data, and analytical model for propose of to react and recognize the identified structures, and then enhance the business performance by embedding and processes within the corresponding. Although discuss your ideas & views with legal and financial counsel that meets your goals using Data Analytics tool for making a strategy plan.
Order management systems to track sales
To track sales is important for both income tax and tax perspective as more as companies do their business globally and out of state which can be traced by order management systems. It is important to ensure proper compliance with ever changing state, federal and international tax regulations to avoid surprise tax obligations for future.
E-commerce strategy will boast your business and Maximize Visibility
Target approaches for more sales through more concentration using an e-commerce strategy that can maximize visibility and boast your business. To remaining agile, businesses require to deeply analyze online platforms that may give a desired output and it will also maximized demands of resources and investment of money and time.
Cyber-security for internal infrastructure to protect business and compete market
To create real time, flexible and accessible technological information solutions, companies are modifying their internal infrastructures. It is necessary to compete market with high tech business world that is also make new ways for accessing the information for outside sources. All time security breaches that can result in some frightening implications highly so being a victim of this threads impact negatively.
Your business can be devastating through the hack results such as, loss of sensitive and personal information in form of technology, accounting, financial details, and other professional needed information that resulting in a loss of productivity. Use Cyber-security to protect your business from unwanted viruses or threads and work with IT consultant to gain a better understanding of data security and risk mitigation strategies to safeguard yourself from negative cyber exposure.
If you are searching for Custom Software/App Development, Data analytics tool, digital/e-commerce marketing, then go with the Papasiddhi which is best-known for design and Mobile Application Development. You can also get an expert advice if you require any guidance/direction by contacting us at: info@papasiddhi.com.