November 30, 2021
Posted by:

puser

Category:

Android development, Business plans, E-commerce Development, Hybrid App Development, Mobile app development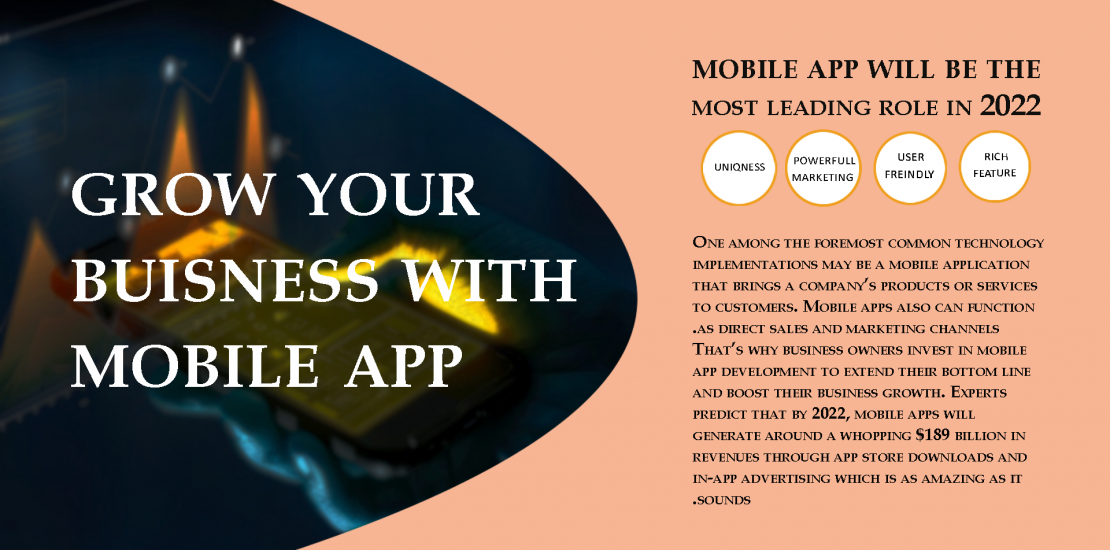 Know why you should invest in mobile application development
Technology is at the core of companies across practically every industry. One among the foremost common technology implementations may be a mobile application that brings a company's products or services to customers. Investing in a mobile app may be a smart move nowadays. More consumers than ever use mobile devices to form purchases, complete tasks and interact with brands.
It doesn't matter what industry you are in whether you take Education, clothing, Footwear and even now pharmaceutical goods can be sold on mobile devices so don't you think it is wise to invest in widely acceptable and used in millions phenomenon? Ask yourself this I am sure the answer is pretty simple as far as you dare to leap.
Mobile apps also can function as direct sales and marketing channels. Experts predict that by 2022, mobile apps will generate around a whopping $189 billion in revenues through app store downloads and in-app advertising which is as amazing as it sounds.
Mobile apps offer brands an unprecedented wealth of opportunities for engaging consumers because reaching an audience with a mobile application is straightforward . That's why business owners invest in mobile app development to extend their bottom line and boost their business growth.
Benefits of having a mobile application for business
Address your customer's pain points:-
Your app should address the pain points of your customer. If the users cannot relate themselves together with your app, then your app launch could be a failure. Choose beta testing for your app otherwise you can always launch an MVP (Minimum Viable Product) before your app launch.
Take feedback from your customers and see where you're lagging behind. Work on the feedback and see how your app gets its desired recognition.
Research more on competitors
You will have competitors on your way. But you would like to be before them. Now, this is often where research involves your rescue. Do more research on your competitors and see what strategies they're applying to be within the forefront market.
Scheme out better strategies than your competitors and are available with unique tricks to entice more customers to your business.
Customers become your brand advocates
Remember if you'll provide an honest service to your customers through your app, then they could end up to be your loyal proponents.
Word of mouth plays a crucial role here as a cheerful customer may suggest your app to his or her acquaintances or relations.
Allows you to realize genuine feedback
With the mixing of the in-app feedback system, you'll get all the real feedback of your customers, regarding your app's performance. don't always expect positive reviews for your app. you would possibly get negative reviews also.
Most frequently the purchasers face poor experience while using an app. So, if your app may be a buggy one and crashes whenever, then you'll definitely not get an honest review and therefore the users may choose to uninstall it even.
Keep performing on genuine feedback, as this may keep your customers hooked into your app.
Easy to take care of
By using regular apps for your daily business operations, you're risking yourself at the helm of an unknown mobile app developer.
If the developer decides to discontinue the app for a few reasons, then you're left to seek out a replacement app and discontinue your current operations.
By building your own custom business app, you get its complete control and do not need to depend upon others for love or money.
All Set to start out together with your Mobile App?
Currently, there are over many app jostling to realize a respective position within the App Stores and Play Store. Thus, competition is basically cut-throat for you.
Everyone wants to be at the forefront and reach their customers in a better way. So, if you would like to hitch this business digitization revolution and increase your customer base alongside sales, then understanding the benefits of mobile apps and using them to border a business strategy are just an answer for your business.
Well then Papasiddhi is the best place for you to develop your dreamed and desired application with the help of best developers around the globe to help you boost your potential far most feel free to enquire now.