November 30, 2021
Posted by:

puser

Category:

Artificial Intelligence, Big Data, Data Science, Robotics, Software Development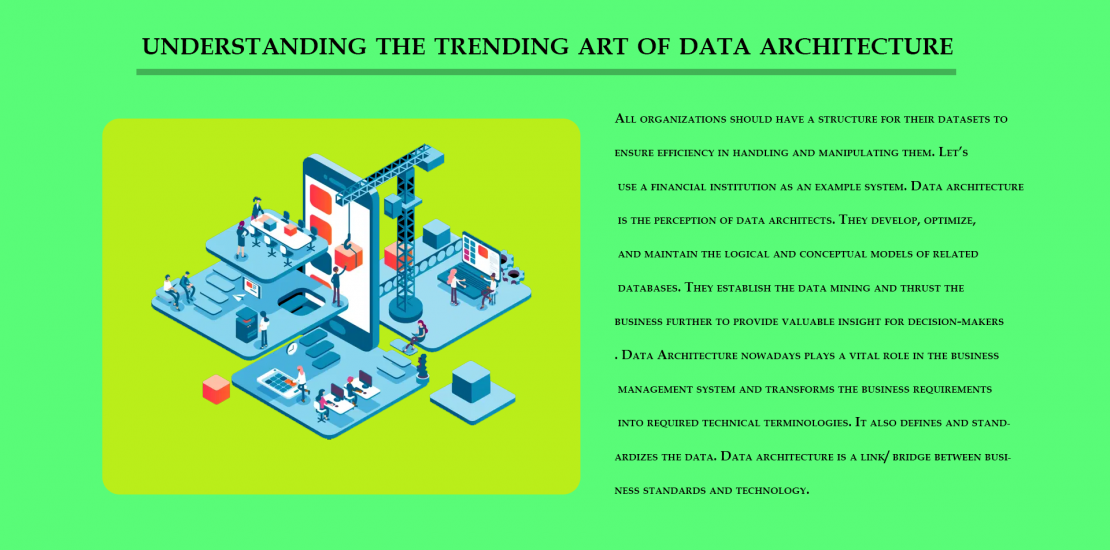 Trending art of data architecture, its terminologies, framework and principles
Have you ever thought that how tech giants such as apple, google and Facebook know exactly about your interests and dislikes even they know that what you like to read and what you don't you must have noticed that your feed in almost filled with the topics you are interested in so how can such thing be possible? well the answer to all is Data architecture.
Before diving deep into the proposed topic let us first understand what data architecture actually is?. Well, as the name itself, represents the diminutive features of the terminology.
It is a corporation with a data approach that is effective. It holds the model framework, policies, set of rules, and standards that an organization uses to manage the data and data flow. In simple terms we can say that Data architecture is the system behind how an organization collects, stores, and integrates data.
Where does help?
In any organization, everyone wants easy access to data, clean data, and updated too. Just like your mother needs your room to be cleaned, easily accessible according to need and updated with your academics. I am not sure about how you manage your room but in Major projects These all requirements can be completed using systematic uses of data architecture.
The well-organized data structure will always standardize the data and transform/deliver it into usable data for people who need the data. The data architecture identifies the type of business and its users. 
A proper approach for data architecture is always to make it flow from the source of data consumers. The motive is to convert the business needs into data and system needs.
All organizations should have a structure for their datasets to ensure efficiency in handling and manipulating them. Let's use a financial institution as an example system.
To begin with, the data architects oversee how the organization stores "customer transaction data."
In addition, they work with data engineers to ensure the storage and availability of all necessary transaction data in a data warehouse. The solutions architect ensures that the products meet the customer's needs.
They also work with both the data architect and the data engineer to ensure the database used to store the information about this product is available on the central repository.
 Organizations have to be clear about the centralized data architecture that will well align with the business process and provide the clear aspect of data. The individual components of data architecture basically activities, behavior and outcomes. 
Data architecture is the perception of data architects. They develop, optimize, and maintain the logical and conceptual models of related databases. They establish the data mining and thrust the business further to provide valuable insight for decision-makers. 
Lets talk about principle involved in
Without principals, no one can achieve the required goals. Just like without a gear box you can't ride your favorite bike
This thing is applicable everywhere whether it is technology or not. The data architecture has a set of principles related to data collection, data organization, integration, and usage too.
These principles help the data architecture to build a robust foundation that further helps in proper data strategies and data-driven decisions. In our terms, how bro code helps to make a foundation for unbreakable and everlasting friendship.
Let's have a brief introduction about some of the data architecture principles:
Validate The Data At the time of data entry. 
Consistency

Documentation

Remove Duplicate Data

Data Accessibility

Security 
Frameworks of Data Architecture: There are multiple sets of frameworks for building robust data architecture.
Some of these are:
DAMA-DMBOK2: This one stands for the data management body of knowledge, specially designed for managing the data precisely.
TOGAF: This one stands for The open group architecture framework. This framework designed for planning, implementing, and managing the data architecture
Tools for data architecture: The consistent data flow plays a vital role in data architecture, and some of the tools help in the consistent flow and management of data. These tools are as follows:
To sum up all 
Data Architecture nowadays plays a vital role in the business management system and transforms the business requirements into required technical terminologies. It also defines and standardizes the data. Data architecture is a link/ bridge between business standards and technology. It is the blueprint of data management and its principles as well. 
Hope you like the blog and find it knowledgeable and you had fun reading. At Papasiddhi, we practice the latest tools and terminologies for better outcomes with the help of our amazing crew on-board and it provides us with the utmost satisfaction from the client's end. 
Stay tuned for more updates and the latest techie news!!