April 25, 2018
Posted by:

papasiddhi

Category:

Mobile app development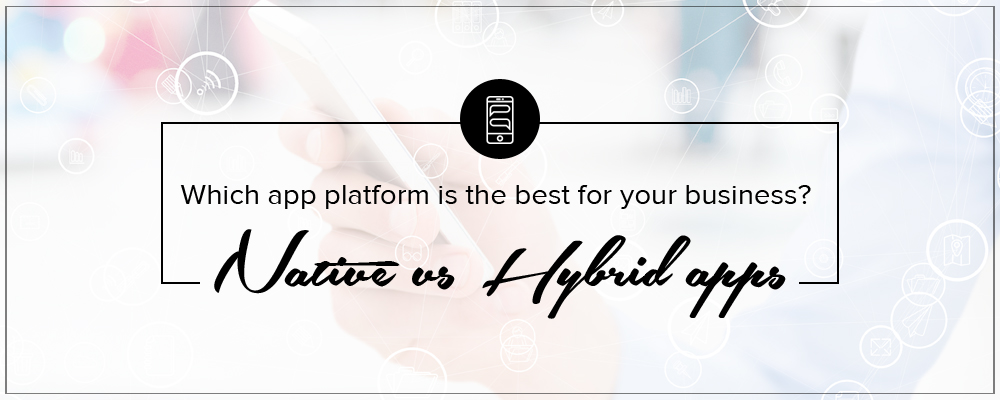 Before we dive into the essence of  Native vs Hybrid Mobile App Development, there's most important aspect is mobile and you must aware of because these devices are playing the key role in Mobile Apps that users keep in their mobile. Although, your targeted audience depends on your choice of a hybrid or native app. To invest in a mobile app that moment immediately comes in your mind across loads of terminology.
To develop a mobile app, it's important to know the nature of hybrid and native including a difference between iOS and Android. Also, which app is the most suitable for you according to your needs which is most important. Although, in this article, we'll go through the overview of a Native and Hybrid mobile app development, its pros, and cons that helps to consider for selecting your application in Mobile App Development.
Overview of a Native vs Hybrid Mobile App Development
Native apps is designed for specific Mobile Operating Systems, build with a particular programming language. The broadly famous platforms for Apple devices are Swift or Objective-C and for Android devices, Java is best.
App example for Native: Instagram
The hybrid app makes built process easier to develop multiple mobile apps for different platforms. In a web development language suchlike CSS, HTML, or Javascript, you can write code once, and then transform it to the native app by translating this to the Android or iOS app. The hybrid app may not gives you smoothness as a native app offers but its development time is faster as compared to Native. PhoneGap and Rubymotion mostly used tools in Hybrid app development.
App example for Hybrid: Amazon app store (using HTML5 for User Interface)
Pros and Cons of Native vs Hybrid Mobile App Development
Advantages of Native apps
Full integration of device – Native apps offered many functionalities on the mobile devices. For example camera, calendar, GPS, and microphone. Although, users enjoyable experience built by these apps which provides a great exposure.
Work without an Internet connection – Without Internet connection Native apps work which is the most important feature of these apps. Although, Functionalities depend according to the nature of the apps.
Excellent performance – If you are searching for a high-speed game or app, then you should go for Native apps. They are simply built for some specific mobile operating system and thus, they offer great performance.
Look and feel of Native applications – Native apps are eye-catching and inspiring applications with the trendy look and feel, that permits users to quickly and easily connect to the button and icons.
Better UX standards – For creating iOS or Android applications, all these apps follow the specific UX/UI that helps users to understand app's navigation and interface easily.
More safe and secure – On iOS or Android of Native applications are only accessible through the app stores. These apps are fully reviewed and tested in the app store before approval of the apps by the app store approval team that provides assurance and reliability certificate for the app.
A disadvantage of Native apps
Maintenance expenses and higher development – For each platform Native apps have a different codebase so they are complex to maintain also requires a lot effort and time. Thus, each team needs to work separately with each version natively.
Development time and talent – Native apps for developing an app involves much more work and time as compared to Hybrid; and for this additional work, you'll require hiring additive developers for various operating systems to your apps with abilities and skills to make sure that they have.
No guarantee for the App approval – After creating the application, it is necessary to the apps will get accepted from the play store which is a tedious and quite long process because of the approval from the store to get featured. The application might get rejected which might be a possibility and also in the app store, it will not add.
Each platform has different functionalities – If you are developing an application for mobile, then with Android, you will first build it to run from devices. Each device's functions can be executed to know that What the operating system allows to your application's functions. According to radical change, you want to develop the app on another platform that you'll have to come up with over time because there are different modalities and functions in each platform.
Different versions – Mobile devices of users may be using different versions of the app and for developers, it makes difficult to maintain and provide support.
Exclusive and personalized code – In the programming language, all the code that you generate, produce and selected from any of the platforms may not be reused in any other platform. In the best mobile platforms, if you want your native application in this, then you will have to develop it in sequence in its respective programming language and area.
Advantages of Hybrid apps
Unified development – Building stress of the multiple application saved to you from these apps which are the fact advantage principle of Hybrid apps. You built one app and slightly tweak it which offers unified development by creating the single app to be operable on both platforms. In the development phase, money amount saved by companies more than a single app that enabled by this apps for leading platforms. For different platforms, the common codebase can be used by developing a single Hybrid framework by developers.
Only one codebase to deal – To manage and maintain your app with only one codebase is easier by Hybrid apps. To compare your Hybrid apps to the native apps you require fewer developers while developing your apps which ensures your app's efficient productivity and smoothness.
Accelerated development speed – In a short period of time, these apps can be built quickly. These apps can be transformed into another platform easily as compared to native apps, these apps are flexible, and require less maintenance. On another platform, you can easily launch by creating one application on one platform.
Efficient scaling – To scale on different operating systems and different platforms, these apps are easier which are also considered as cross-platform applications. Without making any modifications or changes in the application, the code can be reused by the development team that allowed by these apps.
Offline support – Working on the offline data cannot be updated by Hybrid apps but its only supports offline work.
Less cost – For app content, These apps use web technologies which is one of the unique qualities of Hybrid apps. It makes much easier in building these apps. For resources, knowledge of web technologies provides more leverage including native app's coding.
Interactive components – With Hybrid apps, interactive programs and visuals are presented like 3D animation and games but on native apps, these programs work much better. For business professional services apps, Hybrid apps are ideal because businesses are not likely to have a specific platform for a more graphical needs which is the main reason for its idleness. Thus, On a daily basis, more innovations are being introduced fortunately into Hybrid apps.
The disadvantage of Hybrid apps
Slow performance – These apps are based on the web technologies so they are a bit slower along with utilizing mobile platforms like Ionic, Onsen, Kendo, and Cordova. According to the application, these platforms take more time considering which can give an outcome in performance loss. The application can become popularly goes down, if the user will not get an impressive experience which is also one of the biggest flaws.
Debugging – A potential nightmare also makes that extra layer. With the targeted operating system to play nicely, the developers have to rely on the framework itself without introducing any new bugs. A deep knowledge of the targeted platform, developers do not likely to have and figuring out of an issue the exact cause which can be may arise bugs.
Poor UX – Hybris apps never offer a user the full native experience which is one of the serious disadvantages of these apps. With the flawless and best UX, the app has to be up there because of fifth or sixth chance rarely given in the app domain for the user. On the UX front with Hybrid apps native cousins still, have some way to before they catch up.
Implementation of new features – As technology is rapidly growing customers now using smartphones and tablets as their primary computing devices so Mobile operating systems keep evolving at much faster compared to desktop counterparts. According to this, at the very apex of progress companies require using all the latest and greatest features including hardware capabilities. So, Implementation of new features by providers can take quite a bit of time before implementation because using a hybrid app, these are probably going to experience difficulties in achieving their goals when they trying.
Wrap up
As we discussed above the overview and advantage/disadvantages of  Native vs Hybrid Mobile App Development and the technologies to use for development of these apps, which one is best for your app? From this article, it has been concluded that it totally depends on the project requirement, resources, and budget. Further, Firstly, understand the client's requirements and accordingly plan is executed before starting the project. Native app development is useful for complex apps that need access to the core features also application's performance, quality and security improved by these apps. Moreover, these apps take some time to develop and it is cost effective.
On the other hand, Hybrid apps can be useful for developing iOS and Android applications that make it easier for app development with the minimal requirement of a budget.
If you are looking for app development using Native or Hybrid technologies, then go into the PapaSiddhi which is best-known for tech driven Mobile Application Development. You can also get an expert advice if you require any guidance/direction by contacting us at info@papasiddhi.com.